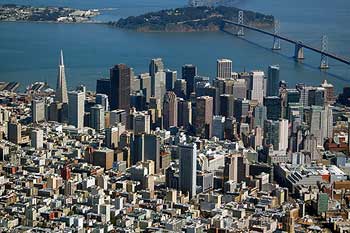 The San Francisco area, when seen on a clear day from a small airplane, is one of the greatest sights in the country. Local pilots love to fly the "bay tour" and pilots from around the world inquire with me about how to fly it.
When we are contacted about arranging a flight lesson for a holder of a foreign pilot certificate, I am usually asked about license requirements, which aircraft would we use, at which airport would we meet, and the costs.
There's no short answer. Everyone's situation and desires are different. It depends on the airplane you want to fly, the airport you want to depart from, the length and route of your "tour" (e.g. fly over the Golden Gate Bridge, down the coast, over downtown San Francisco, etc.), and basically how much time and money you want to spend.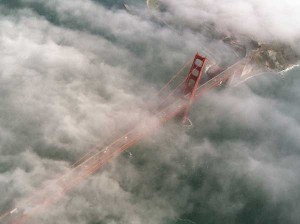 For people who aren't pilots, we'll schedule an air charter (FAA Part 135) with point-to-point routing so that you get a great view of the area.  For people who happen to be pilots, we'll shift into "CFI" (flight instructor) mode and treat the flight as an FAA Part 91 flight with the pilot in the left seat.
Your time is billed hourly for all air and ground time. We can come pick you up at the closest airport to you if you're willing to pay for the engine and instructor time.
So if you're planning to visit San Francisco, San Jose, or anywhere in Silicon Valley and would like to do some flying, feel free to contact us and we'll put toether the perfect plan for your visit.
Greg (right) and visiting pilot Nick (left) debrief the San Francisco Bay Tour flight after landing